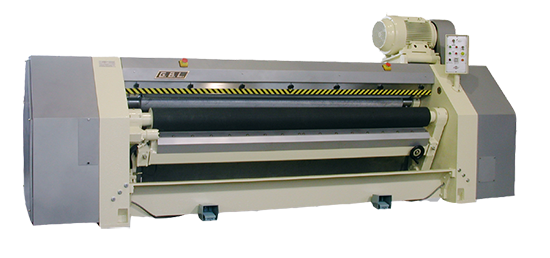 FLESHING MACHINE
The high productivity, the extreme simplicity of use end the greatest safety for the operator are the aims achieved in making this machine.
The scrupulous employment of new technologies let us offer a fleshing machine for entire bovine hides, heavy or light hides, having the following features:
Very rugged carrying structure with smooth inside walls that do not hold work residuals.
Entirely hydraulic movements with Vickers System device for:
opening and closing;
Rotation of drawing rollers by hydraulic motors and gears housed in a watertight box, with adjustable speed from 0 to 50 meters/minute;
Grinder carriage movement with adjustable speed.
Absolute simplicity of use.
Soft closing of the machine in order not to damage the hide at the impact with the knives roller.
Wide opening to simplify the hide introduction.
Timed opening permitting the fall of the leather by gravity hence freeing the operator who can take the following hide.
Thickness precision regulation by a manual hand-wheel.
Bolstering bearing supported by adjustable pneumatic system to take up the thickness variations of the processed hide.
Jet of water to wash rollers for hides extraction.
Knives roller that can be easily dismantled for a quick replacement.
Double safety system for the operator.
Closing by double pedal control.
Electric motor in raised place to protect it from sprinklings of water.
Electrical equipment into stainless steel watertight box.
Working mechanisms protected by stainless steel case.
Maintenance and lubrication reduced to the minimum.
OPTIONAL EXTRAS AVAILABLE ON REQUEST:
Jet of water on the knives roller that it works only when the machine is closed in order not to wet the operators, to facilitate the fleshing operation;
Thickness increasing control device, only in the central part of the machine, for an undamaged passage of hides with head, neck etc., to avoid side-slipping. In this way is it possible not to have idle times dues to the reopening of the machine and to the reintroduction of the hide;
Thickness precision regulation by electrical system with push buttons and position indicator display;
Automatic oiling lubrication plant for all the moving machine-members. The plant works at pre-established intervals.
MAIN FEATURES
| | | | | | | |
| --- | --- | --- | --- | --- | --- | --- |
| MODEL | | Mod. Sp 2200 | Mod. Sp 2400 | Mod. Sp 2700 | Mod. SP 3000 | Mod. SP 3200 |
| WORKING WIDTH | mm | 2200 | 2400 | 2700 | 3000 | 3200 |
| POWER BLADES ROLL MOTOR | hp | 37 | 37 | 45 | 56 | 56 |
| POWER PUMP MOTOR | hp | 15 | 15 | 15 | 15 | 15 |
| SPACE REQUIRED | mm | 430x150x207h | 450x150x207h | 480x150x212h | 510x150x220h | 530x150x220h |
| NET WEIGTH | kg | 7400 | 7900 | 8500 | 9100 | 9600 |
WATCH THE VIDEO
brochure

---
ALTRE MACCHINE
---