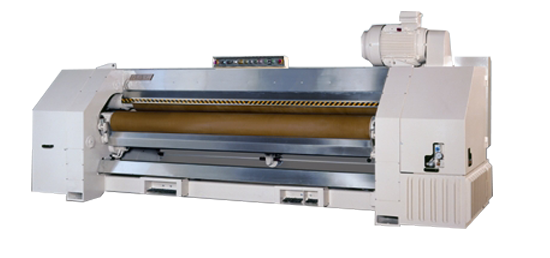 SETTING OUT AND SPREADING MACHINE
Our setting out and spreading machine is the result of the natural evolution of the experience gained in tanneries performing high quality vegetable tannage. It has been expressly devised for the production of vegetable tanned hides and allows to obtain an excellent flattening of the wrinkles as well as a considerable enlargement of the hide's surface.
The main features of this machine are:
Fully hydraulic engineering of the following operations:
Opening and closing
Speed of rotation of the transport rollers adjustable in continuous mode from 0 to 30 m/1'
A rollers reversing device is provided to reprocess the most wrinkled areas of the hide (reversal)
Automatic positioning of the upper transport roller with adjustable pressure according to the thickness of the leather (pressure is only exerted when the machine is closed to avoid overloading the linkage); possibility to put two felts on the transport rollers to dry the leather (setting out and sammying machine version);
Automatic feed and positioning of the sliker roller according to the actual thickness of the hide being processed, both crosswise and lengthwise, until the value set on the display is reached; when this value is exceeded, the roller's action becomes ineffective;
Removal of the marks on the leather both during the closing phase and the rollers reversal phase (reversal)
Adjustment of the sliker roller working pressure;
Rotation of the wrinkle flattening roller with adjustable speed and unidirectional running also during the reversal movement of the transport rollers;
Very large opening of the support roller in order to make leather introduction easier;
Sliker roller of large diameter with stainless steel or bronze slikers, expressly devised to obtain the maximum flattening of the wrinkles and a larger surface of the leather.
Electronically balanced sliker roller;
Wrinkle flattening roller devised to obtain the greatest extension and opening of the wrinkles;
Electrical setting of the leather's basic thickness by means of push buttons and thickness display;
Maintenance is very simple, in fact lubrication or greasing are reduced to the minimum thanks to the high degree of protection of the moving parts;
Hide feed-in area protected by a certified double photoelectric system which prevents the machine from closing when the ray is darkened;
Safety table which protects the entire working area;
Cleaning device for the upper transport roller;
The electrical equipment is placed in a watertight control cabinet in compliance with the safety standards;
The machine is provided with casings which protect all its moving parts;
The machine complies with CE standards.
MAIN FEATURES
| | | | | | | | |
| --- | --- | --- | --- | --- | --- | --- | --- |
| MODEL | | RP 1800 | RP 2100 | RP 2400 | RP 2700 | RP 3000 | RP 3200 |
| WORKING WIDTH | mm | 1800 | 2100 | 2400 | 2700 | 3000 | 3200 |
| POWER PUMP MOTOR | kw | 11 | 11 | 11 | 11 | 11 | 11 |
| POWER BLADES ROLL MOTOR | kw | 30 | 30 | 37,5 | 37,5 | 37,5 | 37,5 |
| NET WEIGHT | kg | 6300 | 6700 | 7100 | 7500 | 7900 | 8300 |
| SPACE REQUIRED | cm | 150x360x210h | 1150x390x210h | 150x420x218h | 150x450x218h | 150x480x218h | 150x510x218h |
WATCH THE VIDEO
brochure

---
OTHER MACHINES
---