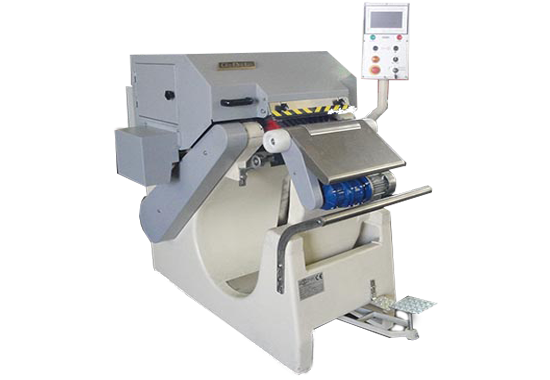 SHAVING MACHINE FOR REPTILE AND SMALL SIZE LEATHERS
The new shaving machine for reptile and small size leathers has been created integrating the latest technologies available on the market, with the most important traditional characteristics, in order to present a machine that enables a high-quality work.
The most important characteristics of this machine are as follows:
Machine built on a heavy structure in stabilized cast iron, extremely important to give strength and to absorb the vibrations caused by the working process.
Brand new electro-pneumatic device of machine closing that improves ergonomics and the operator's working efforts. It is still available, on request, the machine with the traditional mechanical closing system.
Leather insertion device with one or two rollers according the request.
Blade roller with closed bearing holder boxes to assure more stability and an easy cleaning to the roller. For better security, the roller is controlled by an electric motor with automatic braking system.
Grinding carriage and grinding wheel group are assembled on recirculating balls slide guides in stainless steel that give stability to the grinding process. To further increase the stability, the grinding wheel is mounted directly on the motor.
Detaching-leather fan in molded rubber easily adjustable.
All the rollers and movements of the machine are mounted on bearings, so they do not need any kind of maintenance.
The following adjustments:
Inserting roller/s speed from 0 to 12 mt. per minute;
Leather thickness adjustment;
Work table position adjustment;
Roller grinding settings and adjustments;
Grinding wheel movement and speed adjustment;
Blade roller and grinding wheel special functions;
can be done directly on the push-button panel, with a touch screen device and an electronic operation control
Complete protection of the machine by casings and other security devices.
Casings are easy-to-open in order to easily clean the working area and they are equipped with safety devices that stop the machine in case of opening.
The machine comes already prearranged for an eventual dust and exhalation extraction system produced by the leather working process. On request, it is possible to provide a complete extraction system, according to your individual needs.
Possibility to have tailor-made rollers with special sizes and materials, on request.
The machine is manufactured in compliance with CE security regulations.
La macchina è costruita in conformità alle normative si sicurezza CE
The machine with the same characteristics described above can be provided also in a fleshing version.
MAIN FEATURES
| | | |
| --- | --- | --- |
| MODEL | | RR 300 |
| WORKING WIDTH | mm | 300 |
| TOTAL ELECTRIC POWER INSTALLED | kw | 5.7 |
| MAXIMUM PNEUMATIC PRESSURE | atm | 8-10 |
| MACHINE DIMENSIONS | cm | 130x150x156h |
| NET WEIGHT | kg | 1980 |
WATCH THE VIDEO
brochure

---
OTHER MACHINES
---