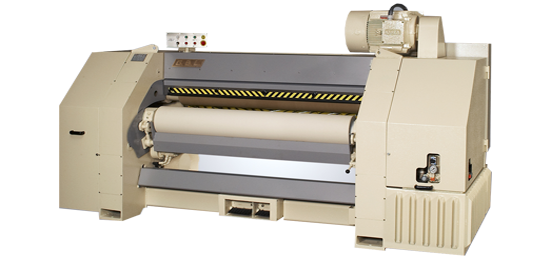 OUT MACHINE B1200/B1800
Since a lot of times we have been manufacturing this machine with remarkable success and to our tanners clients great satisfaction and it is with great pleasure that we like showing this new model of setting – out machine for hide and leather tanned to vegetal, which collects and combines the innovations in the technological and in the safety field.
The new setting – out machine has these main features:
Supporting box structure in steel of high resistance
Actions fully hydraulic for
Opening and closure
Transport rollers rotation to get a speed adjustable in continuous from 0 to 30m/1'
Device for the rollers outlet reverse motion to insist on more wrinkled areas of the leather: reversal motion (optional on request)
Automatic positioning of the upper transport roller according to the thickness of the leather under process, with working pressure adjustable (pressure arrives with machine closed only for not overloading the connecting-rod system uselessly)
Revolution of the leather cleaning brush , to one-way revolution in the reverse motion phase of the transport rollers too
Automatic going forward and positioning of the blades roller on the leather depending by its real thickness, with pressure adjustment after the leather has been touched, this allows:
1. To avoid the stroke sign of the blades roller on the leather;
2. The blades roller positioning on the base of the real thickness of the leather, without being worried about having to set it every time;
3. To position the blades roller by copying the leather thickness both crosswise and lengthwise during its outlet operation;
Blades roller of big diameter, in quality steel, electronically balanced with stainless steel knives or in alloy brass, on demand;
Double set of helicoidal knives, studied suitably to get the highest grade of strengthening of the leather fibre and a higher homogenization of the upper leather;
Brush with high resistance bristles for a perfect cleaning of the leather flesh side during the usual setting – out operation on the same;
New cleaning device of the upper transport roller by using a plastic scraper or a felt table;
Double safety device for the operator's safety thank to a metal strip balancing, adjustable in height and blockage by means of rubber structural, to intrinsic safety;
Absolutly simple maintenance; in fact lubrication and greasing are reduced to the minimum thanks to the effective protection of the parts in movement;
All connecting-rods are equipped with bearings, without bush for a long life time;
Closure casing for all the machine parts in movement;
Machine to CE standard.
MAIN FEATURES
| | | | |
| --- | --- | --- | --- |
| MODEL | | B 1200 | B 1800 |
| WORKING WIDTH | mm | 1200 | 1800 |
| POWER BLADES ROLL MOTOR | kw | 22,5 | 30 |
| POWER PUMP MOTOR | kw | 11 | 11 |
| SPACE REQUIRED | cm | 150x300x205h | 150x360x205h |
| NET WEIGHT | kg | 6900 | 7200 |
WATCH THE VIDEO
brochure

---
OTHER MACHINES
---