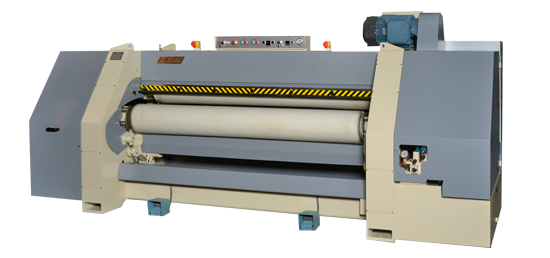 COMBINED SAMMYING AND SETTING-OUT MACHINE
A great setting-out action, with a certified leather surface increase, wrinkles and creases elimination, all associated with a powerful pressing that leaves leather perfect in every point, irrespective of its thickness. These are the main features that make this machine an excellent investment for those who want to increase the leather surface and, at the same time, to save a process front of the traditional work cycle of a tannery.
Thanks to our experience and a continuous research cooperating with the main tannery groups we achieved these targets with the brand new combined setting-out and sammying machine.
These are the main features of the machine:
The machine is completely hydraulic for what it concerns the movement operations.
Leather supporting roller with a wide space to allow the best positioning of the skin for its elaboration.
The distance between the blade cylinder and the supporting roller is adjustable electrically through buttons with a display on the control panel for an immediate reading by the operator.
The blade cylinder has an increased diameter front of the others cylinders. Thanks to an hydraulic device, it approaches gradually to the leather in the closing phase, and it adapts to it also longitudinally during the elaboration, then it moves away quickly in the opening phase of the machine or in the reverse motion phase of the transport rollers. This process allows a uniform result on the whole surface, avoiding any kind of marks on the leather.
Furthermore, It could be regulated, directly on the control panel of the machine, the rotation speed and the working pressure of the blade cylinder. This function is important to meet the increasing customer's demand for better result.
The wrinkle-flattening roller is independent in its functioning, with a backwards rotation compared to the leather extraction. The speed is variable, in order to allow the best stretching out of the leather depending on the special requirements.
The drying pressure is hydraulically adjustable from 2 to 32 Tons, and visible by a manometer placed on the control panel.
Felt centering is done automatically by the machine.
The extraction speed of the rollers is adjustable with a command placed directly on the machine side and can go up to 35 mt./min
An innovative device controls the use of the felts and it allows the automatic positioning and adjustment of the pressing rollers.
The machine is protected in all its parts, but maintenance and cleaning is still very easy. The interventions of lubrication and greasing are therefore minimized.
On demand, It could be installed on the machine an automatic or centralized lubrication systems.
The electrical equipment, placed in a suitable waterproof box, is mounted posterior to the work area.
MAIN FEATURES
| | | | | | | | |
| --- | --- | --- | --- | --- | --- | --- | --- |
| MODEL |  PAC/PMV | 1800 | 2200 | 2400 | 2700 | 3000 | 3200 |
| USEFUL WORKING WIDTH | mm | 1800 | 2200 | 2400 | 2700 | 3000 | 3200 |
| POWER PUMP MOTOR | kw | 11 | 11 | 11 | 11 | 11 | 11 |
| POWER BLADES ROLL MOTOR | kw | 22 | 22 | 22 | 30 | 30 | 30 |
| SPACE REQUIRED | mm | 4010x16000x2200h | 4410x1600x2200h | 4610x1600x2200h | 4910x1600x2200h | 5210x1600x2200h | 5410x1600x2200h |
| NET WEIGHT | kg | 6900 | 7200 | 7400 | 7700 | 8000 | 8200 |
WATCH THE VIDEO
brochure

---
OTHER MACHINES
---