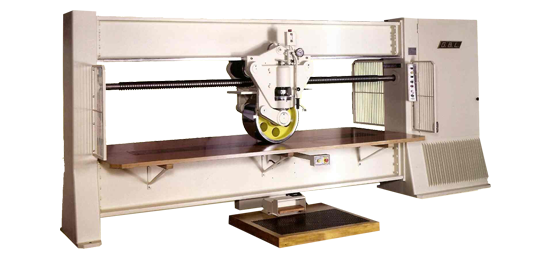 SOLE LEATHER ROLLING MACHINE
Our sole leather rolling machine is the result of the natural technological evolution of a successful model which was created over 30 years ago and which has been sold in hundreds all over the world. Its mains features are:
Working roller which profile has been expressly devised to avoid marking the leather, even very thick leather, and provided with a high working pressure;
Two basic models with working roller 300 and 350mm wide;
The working pressure of the roller is determined hydraulically by means of a device which adjusts the thickness of the hide being processed;
The working roller starting and stopping are controlled by a footboard as to leave the operator's hands free; The rolling speed of the working roller is adjustable in continuous mode;
The automatic reversal of the working roller according to the actual size of the leather being processed allows to reduce the production time;
The working roller is operated by a worm screw directly controlled by a powerful hydraulic motor;
The counter-rollers exerting pressure on the working roller are fitted on bearings; The working area is protected by various guards which prevent other people from gaining access to the working zone and protect the operator against possible accidents;
The safety device causes the machine to stop immediately in the case that the operator's hands come into contact with any metal part of the machine;
The power consumption is limited: only 15 Kw;
The electrical equipment is placed in a watertight control cabinet in compliance with the safety standards;
The machine complies with CE standards;
A soft and flexible product can be obtained by fitting a conductive rubber sheet between the working roller and the plate.
CYLINDER FOR VEGETAL TANNERY ON GUM
This machine is used in the vegetal tannig working process of shoulders, bellies, sides or entire leathers in order to make the leather more flexible and soft and, at the same time, to make compact the fibers.
This working process is obtained acting on the leather on a gum plate instead of a steel plate.
The result is the same done by a leather perching machine but, in comparison with this machine, it increases considerably the effect of softness and compaction of the fibers.
The cylinder for vegetal tannery on gum has these different characteristics compared with the version for sole leather:
operating roller with a smaller diameter to penetrate better in the leather;
working width of 450 mm, to increase considerabily the productivity of the machine;
working process on gum plate;
possibility to set the machine for just one worker as in the traditional version for sole leather, or with two workers one-on-one at the opposute side of the working plate, in this case the machine has two working platform.
Very Important:in this setting the machine could not be used for the traditional working process of leather butts.
MAIN FEATURES
| | | | | | |
| --- | --- | --- | --- | --- | --- |
| MODEL | | C 2600/300 | C 2600/350 | G 2600/450-1 | G 2600/450-2 |
| WORKING WIDTH | mm | 300 | 350 | 450 | 450 |
| ROLLING MAXIMUM TRAVEL | mm | 2600 | 2600 | 2600 | 2600 |
| POWER POMP MOTOR | kw | 15 | 15 | 15 | 15 |
| WORKERS AND PLATFORM NUMBER | n. | 1 | 1 | 1 | 2 |
| NET WEIGHT | kg | 5900 | 6100 | 6300 | 6350 |
| SPACE REQUIRED | cm | 160x570x230h | 160x570x230h | 160x570x230h | 130x570x230h |
WATCH THE VIDEO
brochure

---
OTHER MACHINES
---